Registration for 2022 Staff Development Conference closes Thursday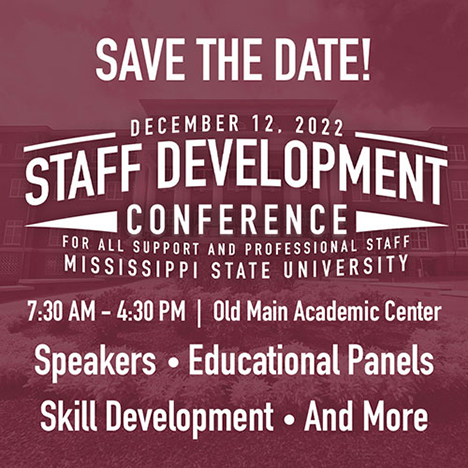 Registration for the 2022 Mississippi State University Staff Development Conference is open until Thursday [Dec. 1].

Visit https://webapps.its.msstate.edu/staffcouncil/conference to register and view details about the conference. You will receive a confirmation email after you register, and you may change your conference schedule until the deadline. Advance registration for the conference and concurrent sessions is required of all attendees.

The conference is a one-day event designed to encourage and support the holistic development and well-being of all MSU staff. It is scheduled for 8:30 a.m. to 4 p.m. Dec. 12 at the Old Main Academic Center. Check-in starts at 7:30 a.m. It is free and open to all professional (executive and managerial) and support staff.

Q: What are the benefits of attending the conference?

A:
* Attend multiple breakout sessions focused on technology, professional development and personal development, self-care and more
* Great networking opportunity
* Learn about on-campus and off-campus resources from various vendors at the Resource Fair
* Valuable takeaway from the keynote session
* Complimentary lunch and snacks
* Chance to win a door prize

Q: Can I plan my session schedule prior to registering?

A: Yes! After you login, go to the Sessions page to view the sessions and descriptions. Each session will have a code that will identify which breakout it will offered. For example, B1S5 is breakout No. 1, session No. 5. You can read about each presenter on the Presenters page. Once you have made out your schedule for the day, go to the Register Now page and sign up.

Q: I am not available on the day of the conference. Is there any way I can still participate?

A: Yes! The welcome by President Mark E. Keenum and the presentation by the keynote speakers will be live streamed on the conference website at https://webapps.its.msstate.edu/staffcouncil/conference.

Have questions? Email staffcouncil@msstate.edu for assistance.