Brown-Lemm elected vice president of Women's Golf Coaches Association Board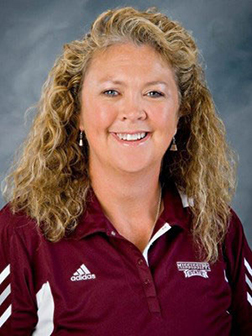 Mississippi State women's golf head coach Ginger Brown-Lemm was voted by her peers into the position of vice president of the Women's Golf Coaches Association last Monday [June 1].

A member of the WGCA's Board of Directors since 2012, Brown-Lemm is set to serve as president beginning in 2022.

"What an honor to serve our Division I, II and III coaches of the Women's Golf Coaches Association," said Brown-Lemm. "I look forward to working with and learning from the brightest in our profession, alongside our incoming president, TCU head coach Angie Ravaioli-Larkin, a friend and competitor since we were 14 years old. My eight years with the Board of Directors in various capacities have provided such an amazing opportunity for growth and learning from the best minds in women's college golf. I consider it my responsibility and my pleasure to continue to give back and to work for opportunities for growing our profession and providing the best role models for these young women student-athletes."

Brown-Lemm, a Class A, PGA member, has accomplished what no other coach in program history has done by leading her teams to four NCAA Tournaments. The Hope, Arkansas, native also coached the Bulldogs to their first ever NCAA Championship appearances in 2013 and 2014. She also holds the most team titles of any Bulldogs head coach with five, most recently winning the 2020 Westbrook Spring Invitational with an NCAA record-breaking 32-under-par finish.

Brown-Lemm has coached three players to All-American status, including freshman Ashley Gilliam, who was named an All-American by Golfweek and the WGCA this season. Under the guidance of Brown-Lemm, Gilliam also received first team All-SEC recognition after she ranked sixth in Division I, second in the SEC and set the MSU program record with a 70.61 season stroke average. Gilliam also broke the State freshman records for Rounds of Par or Better (13) and Rounds in the 60s (5).

It's not just on the course where Brown Lemm's teams excel, her players perform at a high level in the classroom as well. In 2018-19, 10 players earned a spot on the SEC Academic Honor Roll, which stands as the most ever in a single season. A total of 13 different student-athletes have been named WGCA Academic All-Americans during her tenure as well.

For more information on the Bulldogs, follow MSU women's golf on Twitter, like them on Facebook and join them on Instagram by searching for "HailStateWG."