Women officers serve integral roles at MSU Police Department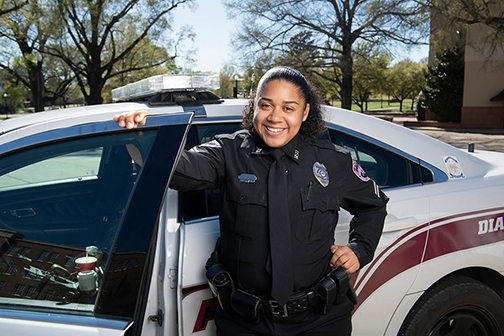 Chantel Solis-McCoy

Mississippi State's Police Department has long included women in many roles, but the contributions of female officers are only increasing over time -- especially as more women join the force.

Police Chief Vance Rice said women officers are undeniably valuable to the department.

"We value diversity on our force, and it's important to have as much diversity as possible. Having women officers certainly makes us a stronger department," Rice said.

Corporal Chantel Solis-McCoy agrees that there are multiple advantages to the university community as more women officers serve.

Now MSU PD's crime prevention specialist, she began working on campus as a patrol officer in 2015. At the time, she was among just a handful of female officers -- a number that dwindled before increasing again to eight currently serving in various policing roles. Women now make up about 25% of the total 33 officers in the department.

"There have been times when a student has felt more comfortable approaching me as a woman, sometimes just to get advice or ask questions," said Solis-McCoy, who as a patrol officer enjoyed walking through residence halls and even joining in with students playing games.

"We really like to have positive interactions between officers and students," she explained. "Our main goal is to educate students and facilitate risk reduction so they can learn not to become victims."

In her current role, she teaches self-defense classes for women and coordinates several other education and risk-reduction programs such as Safe Walk, Alcohol and Drug Awareness, Domestic Violence Prevention, Adopt-a-Cop and others.

Solis-McCoy observed that women sometimes are viewed as more "compassionate" or "understanding" and may be preferred at times when interviewing certain crime victims.

No matter what the day's work may bring, she keeps in mind her philosophy for policing.

"The reason I became an officer is because I want to be able to treat people the way that I know I would want to be treated or the way I would want my family to be treated," Solis-McCoy said. "Now, with everything going on in the news about the bad things about police officers, I want to show that not all officers are like that -- we are here to help, and we are here to try to make a difference in our community.

"I try to make memorable moments with everyone, so even if the reason that I met them is a bad situation, at least they can know that I was there to try to help them or give them options on how to handle a situation in a different way if it ever comes to that again," she said.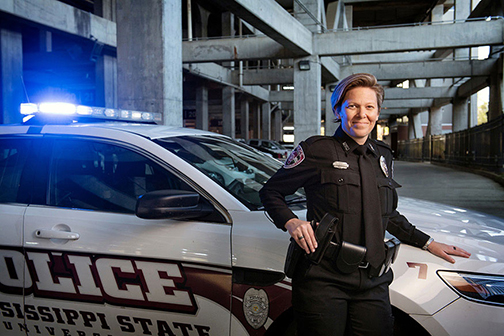 Stephanie Perkins

Corporal Stephanie Perkins said being a woman in a traditionally male-dominated field has never caused her to hesitate about her career path. After joining the military at a young age and completing a tour of duty in Iraq with the U.S. Army National Guard in 2003-2004, she had to wait until her 21st birthday to qualify to become a certified police officer. She joined the Starkville Police Department and later became part of its SWAT team and one of the first women snipers in the Southeast. Now, Perkins is one of two investigators at MSU PD after joining the campus department in 2019 upon her return from additional overseas work.

She said the university police force is made up of a "really good group of officers," and noted the department is a nationally and state accredited agency, adhering to high standards of training and other criteria. "We're very proud to hold that status," Perkins said.

As far as being a woman officer, Perkins said she doesn't think about it.

"I've always just kept a standard of being and doing equal. For me, there's never been an issue, even in male-dominated work from when I was age 17," Perkins said. "I realize that I have done things that most women will never do—and I've done things that most men will never do."

Perkins said she went through the same tryouts and obstacle courses and passed the same tests as her male counterparts. "It's not easy. It wasn't handed to me. I sure had to work for it," she said. "But I do it because I really enjoy it. I don't do it for status or anything other than that it was fun and I learned and grew," she said reflecting on her military and police training and jobs.

With a variety of experience, she now enjoys passing on information she's learned to colleagues.

"I love it when a young officer gets to do what they've been trained to do. When you have the right leadership, there is no better job, because there are so many aspects of policing, from public relations, community-oriented policing, the motorcycle units, K9 unit and investigations. You're free to work traffic or be on foot patrol or bicycle patrol. There's no day that is the same," Perkins said.

She said the number of women in law enforcement has greatly increased from when she first began, and she's glad more women consider it as an option.

"I think with a man or woman, it's just a mentality of what you want to do with your life and what you want to do with your career."

Learn more about the MSU Police Department at www.police.msstate.edu.

MSU is Mississippi's leading university, available online at www.msstate.edu.

Allison Matthews | Public Affairs